Does your car or truck have foggy headlights or cracks or stars in your windshield?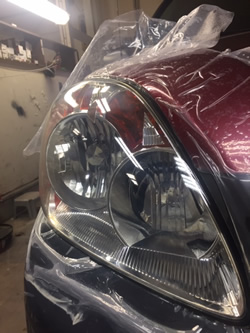 If the answer is yes to either (or both) of these questions, 207 Windshield Repair can help you repair these issues at a reasonable price.
Headlights with an aged, cloudy, or hazy look are becoming increasingly common, as the average age of all cars on the road continues to rise. Plus, most modern vehicles use replaceable bulbs with plastic lenses that are more prone to discoloration, rather than the more-durable glass sealed-beam units. Fortunately, 207 Windshield Repair can repair this issue for a modest cost. Click here for more information on what you need to know about repairing your foggy headlights.
If your vehicle's windshield gets chipped or cracked, should you repair or replace it? There could be rocks falling from a construction truck, plow trucks laying down salt and sand when it snows and sleet and the occasional chunk of unknown debris kicked up by cars passing by. No matter the cause, it's important to repair your windshield after it has been damaged to help ensure it doesn't get worse. Whether you need to fix a small ding or crack, click here to see what you need to know about a damaged windshield.
207 Windshield Repair is your one stop shop for faded and foggy head lights or minor windshield crack repair in central Maine. With our mobile repair vehicle we can come right to you and make this process easier and convenient! We also accept most major insurances, which may make the process a little less expensive or no cost to you!
207 Windshield Repair is 100% mobile, so I can travel to places like your home or office, while you are shopping or even the beach! I can repair your car pretty much anywhere, as long as the weather permits. Please contact 207 Windshield Repair today to set an appointment with us to make your car or truck safer for you, your passengers and your family!